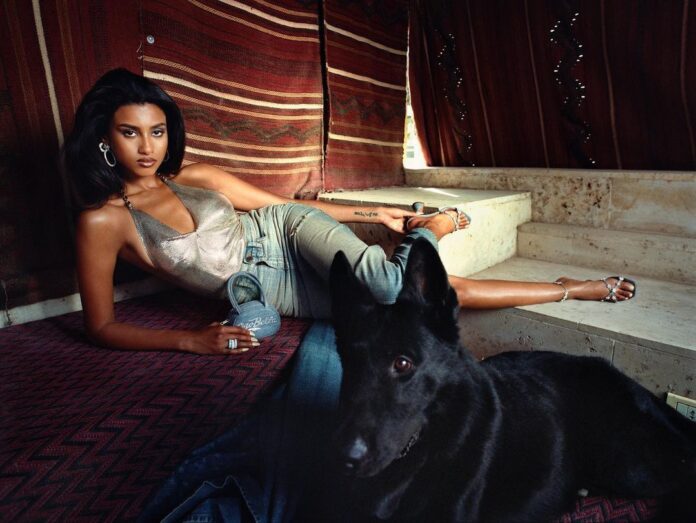 DUBAI: Dutch Egyptian Moroccan model Imaan Hammam landed herself a new campaign this week — and this time, she is paying tribute to her Arab roots.
The model posed for Romanian Jordanian designer Amina Muaddi's latest campaign, which was released on Monday.
The short clips, shared on Muaddi and Hammam's Instagram accounts, were shot in Cairo.
In the video captured by British Egyptian filmmaker and photographer Dexter Navy, the 25-year-old catwalk star flaunted Muaddi's new Drop 2/22 collection.
The videos and images featured Hammam in multiple scenarios, including standing alongside a white Arabian horse and posing atop intricately woven rugs.
She posed for pictures alongside women and men wearing traditional outfits and head and face covers decorated with jewelry.
In one of the shots, she sat in a cafe next to an elderly man who also wearing a traditional jellabiya and head wrap.
The model wore strappy square stilettos, satin pointed-toe pumps and transparent platforms that were embellished with Muaddi's iconic sparkly detailing.
The collection not only features the designer's glitzy creations, but she also expanded her handbag and jewelry collection.
"What a trip and team! Love all of you! This one is for our people," Hammam wrote on Instagram.
"I really wanted to do something meaningful that would be an ode to my Arab heritage, a celebration of our culture," Muaddi told WWD magazine.
"Evidently, I wanted to work with creatives that could understand and embody that concept, so it was crucial to me to work with almost entirely an Arab crew and production led by (visual artist Dexter Navy's) lens, who is half Egyptian, and starring Imaan (Hammam) who is of Moroccan Egyptian origins," she added.
The shoot was styled by Jahleel Weaver, who is Muaddi's longtime collaborator and the deputy creative director of superstar Rihanna's fashion house, Fenty.
Hammam is one of the most in-demand models in the industry at the moment. She has appeared on the runway for major fashion houses such as Fendi, Prada and Moschino, and in international campaigns for DKNY, Celine and Tiffany & Co.