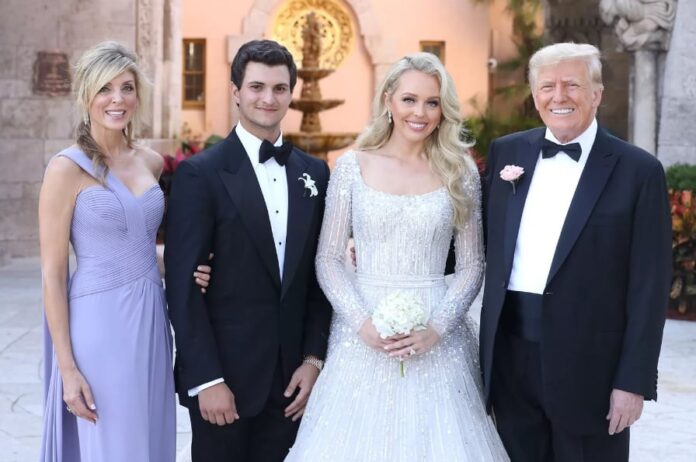 DUBAI: Tiffany Trump was escorted down the aisle by her father, former US president Donald Trump, as she married Lebanese-born businessman Michael Boulos at Trump's Mar-a-Lago Club in Florida on Saturday.
The bride, 29, showed off a custom-made Grecian-style gown by Lebanese designer-to-the-stars Elie Saab.
The bride was led down the aisle by her father. (Hy Goldberg for Denis LEON + Co.)
Tiffany chose her wedding dress as a nod to Boulos' heritage. "It's a Lebanese American wedding, so we were so happy to have Elie Saab create the magic," said mother of the bride Marla Maples, according to People magazine.
The couple drafted Lebanese wedding and event planner Toni Breiss, who is known for his larger-than-life events, for the occasion.
The 250-strong guest list included Ivanka Trump, along with her husband Jared Kushner.
Tiffany is the fourth child of Trump with his ex-wife Marla Maples.
Boulos, 25, is of Lebanese and French descent and grew up in Lagos where his father, Massad, runs Boulos Enterprises and who is the CEO of SCOA Nigeria.
Boulos and Tiffany were engaged in January 2021, the day before Trump left office following defeat in the 2020 election.