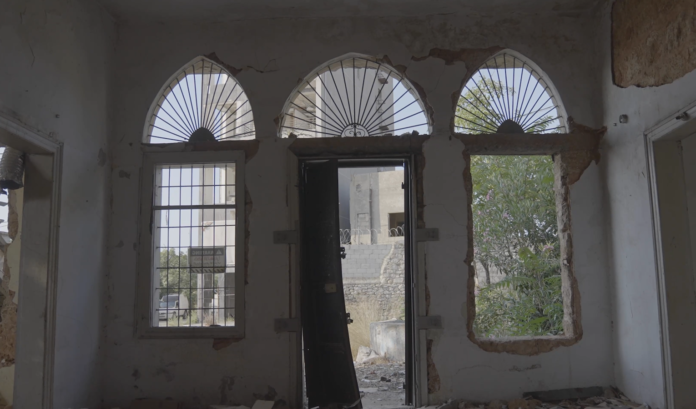 DUBAI: A debutant filmmaker is using the metaverse as a platform to share the harrowing story of the 2020 Beirut port blast and its aftermath.
Fahed Abu Salah, who witnessed the tragedy first hand, told Arab News: "I saw the whole thing and all the damage and confusion that happened on that day. No one understood what was going on; it was such a shock for everyone."
At least 218 people were killed when ammonium nitrate stored at a port facility in the Lebanese capital exploded on Aug. 4, 2020. The deadly blast caused $15 billion in property damage and left an estimated 300,000 people homeless.
Director Fahed Abu Salah at the 'Beirut After the Blast' premiere in Dubai. (MContent)
Abu Salah's documentary "Beirut After the Blast" held its metaverse premiere in Dubai at the Waldorf Astoria DIFC this month ahead of its release online. It is now available to stream on the MContent app, one of the first Watch2earn content ecosystems and proponents of Web3 cinema.
"This is a next-generation platform for cinema, I totally believe in it. The app has amazing plug-ins and they provided technical support for everything we asked for," Abu Salah said.
Umair Masoom, MContent founder and CEO, said in a statement: "One of the key strengths of a Web3 content company and streamer like MContent is our ability to pick up any story that our community wants to shed light on despite any power center disliking the underlying narrative. This premiere further highlights the unique independence of our content empowering filmmakers like Fahed with limited resources to create and widely distribute an incredibly important story."
Before the explosions, Abu Salah was already dabbling in short videos online, but "Beirut After the Blast" is his first full-length documentary.
"I had two goals when I made the documentary. First of all, I didn't want anyone to forget what happened. I wanted everything that happened to be documented properly, so people can watch over and over again and more people can know this story," he said.
"Second, people are suffering as we speak. They want answers and they want closure. Nobody even knows how many people really died. I wanted to look for answers."
Making the documentary was no walk in the park either. "I had a lot of challenges. Since the explosion is an ongoing investigation, it was hard to get statements from people who are close to the investigation. A lot of the victims also refused to talk because they didn't want to really remember what happened that day because of the trauma."
He added: "We were shooting really close to the date of the memorial of the blast, so it was chaotic. There were a lot of protests as we tried to cover everything on that day and that was the closure of the shoot as well. It was hard to get a statement. It was hard to shoot."