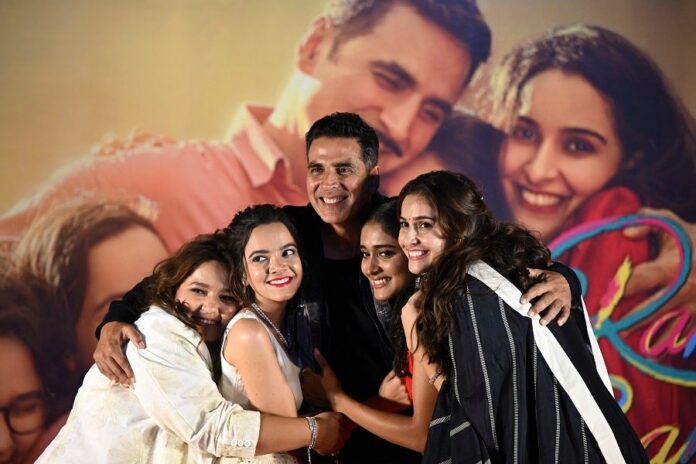 DUBAI: Bollywood superstar Akshay Kumar jetted to Dubai to promote his new film "Raksha Bandhan" and opened up about his inspiration for the movie in a conversation with newspaper Khaleej Times.
The actor stopped by the newspaper's office in the city, along with director Aanand L. Rai, to discuss the new movie, which celebrates the Indian festival of Raksha Bandhan — a day to honor the bond between brothers and sisters.
Kumar — who was recently revealed by the Indian government to be the country's highest tax payer from the entertainment industry — opened up about the special relationship he shares with his own sister, Alka Bhatia.
"I remember when my sister was born, we were taught (to) remember to take care of her! Whatever she asks for, don't refuse, we were told. So, highest taxpayer or not, whatever is mine is my sister's as well. There are no two opinions about this," said the 54-year-old actor.
In "Raksha Bandhan," Kumar stars as the only brother in a family of five siblings. Actresses Sadia Khateeb, Smrithi Srikanth, Deepika Khanna and Sahejmeen Kaur star as the four sisters. Actress Bhumi Pednekar features as his childhood sweetheart.
Kumar also stressed that he wanted to make the film because Rai was helming the project.
"The kind of film I want to do is the kind of film he makes. The kind of humor I have, is the kind of humor he has. We both have that very quirky kind of mindset when it comes to making films, and he also has an agenda while making a film; there should be some learning, some takeaways. I want to do the same kind of films and whether it is 'Toilet: Ek Prem Katha,' 'Pad Man' or 'Airlift,' I have done many films like this," said Kumar. "I have ruined his habit because he makes one film in three years and now, in two years, he has made two films with me. And we're preparing for a third…"
Rai, meanwhile, said he's attracted to the actor's simplicity which exists despite his megastar status in India and beyond. "It's fantastic for a director to have somebody without any complexes, going all out and living the moment without any fear that there are so many films he has to live up to. He lives up to that moment. That's very important," said the filmmaker, famous for his films like "Tanu Weds Manu," "Ranjhanaa," "Shubh Mangal Saavdhan" and "Manmarziyaan."
The film, Rai said, was a product of the COVID-19 pandemic.
"I realized that in those few months when we were all not moving out and didn't really know where it (Covid) would end or where it would go, we were quite insecure, living with a lot of fear. The only thing that was consistent at that moment was your family. You were eating together, sitting together, playing together; that was the only way to get rid of the fear," said the director.
"Raksha Bandhan" releases in cinemas in the GCC on Aug. 11.