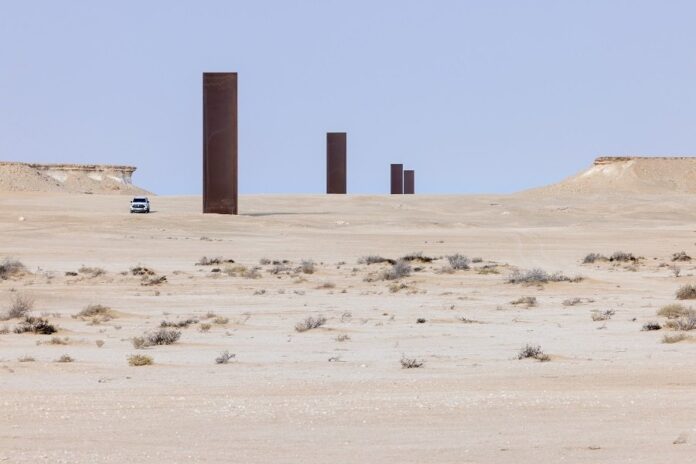 DUBAI: Ahead of the fast-approaching FIFA World Cup Qatar 2022, Qatar Museums has announced an expansive public art program that will be rolled out not just in the capital city of Doha but throughout the country. The nation's public spaces — parks, shopping zones, rail stations, hotel plazas, cultural institutions, Hamad International Airport and the eight World Cup 2022 stadiums — will be transformed into a "vast outdoor art museum," with 40 new pieces being added to the already existing 70 pieces across the country.
Sheikha Al-Mayassa bint Hamad bin Khalifa Al-Thani, chairperson of Qatar Museums, said in a statement, "The addition of 40 new, major works of public art this fall is a significant milestone for Qatar's public art program. Public art is one of our most prominent demonstrations of cultural exchange, where we present works from artists of all nationalities and backgrounds. From the arrivals at the best airport in the world — Hamad International Airport — to every neighborhood in our nation, public art is there to make your experience unique."
Comprised of more than 100 artworks, the public art extravaganza will feature 40 new and commissioned pieces. New works from international heavyweights will include artists Olafur Eliasson, Jeff Koons, Yayoi Kusama, KAWS, Rashid Johnson, Ernesto Neto, Lawrence Weiner, Faye Toogood, Katharina Fritsch, and others.
Qatari and MENA region artists whose work will be presented in the public art program include Adel Abidin, Ahmed Al-Bahrani, Shouq Al-Mana, Shua'a Al-Muftah, Salman Al-Malek, Monira Al-Qadiri, Simone Fattal and Faraj Daham.
According to a press release shared by Qatar Museums, the country was among the first in the region to establish a public art program, which currently includes works from Richard Serra, Tom Claaseen, Bruce Nauman, Louise Bourgeois, Urs Fischer, Subodh Gupta, Dia Al-Azzawi and others.
"Qatar Museums' public art program, more than anything else, serves as a reminder that art is all around us, not confined to museums and galleries, and can be enjoyed and celebrated whether you are going to work, or school, or the desert or the beach," said Abdulrahman Ahmed Al-Ishaq, Qatar Museums' Director of Public Art, in a statement.
The FIFA World Cup Qatar 2022 kicks off on Nov. 21.