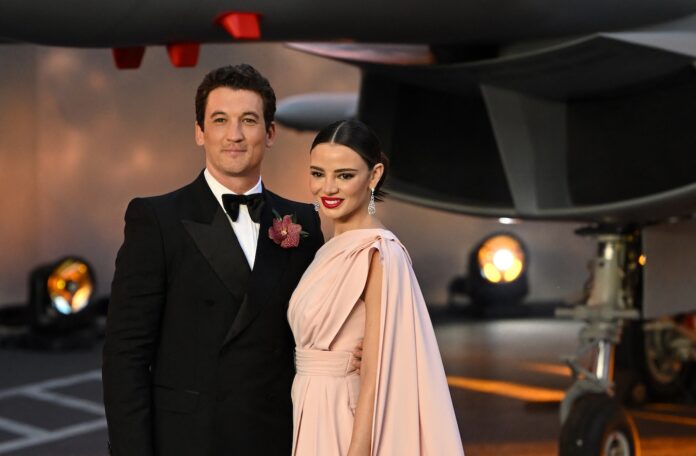 DUBAI: US actress Keleigh Teller is shutting down red carpets across the world as she supports her husband, Miles Teller, at international premieres for his new film "Top Gun: Maverick" — and she has been spotted in a number of gowns by Lebanese designer Zuhair Murad along the way.
Most recently Teller hit the red carpet in Korea in an emerald green duchess silk ballgown from the label's Pre-Fall 2022 ready-to-wear collection. The strapless dress featured a sculpted neckline and A-line skirt, with Murad's signature cinched-in waist.
Earlier, she stunned at the film's London premiere in a pale pink gown from Murad's Spring 2022 line, complete with a thigh-high slit and a sleek belted waist.
The actress was also spotted alongside her husband at the premiere of Netflix film "Spiderhead" in New York last week in a dramatic all-black look by the Lebanese designer.
"Actress @KeleighTeller looked ravishing, alongside husband Miles Teller… wearing a black asymmetrical cape gown with embellished detail and thigh-high slit from the Spring-Summer 2022 collection," the label posted on Instagram.
Miles Teller plays Lt. Bradley "Rooster" Bradshaw in "Top Gun: Maverick" and previously spoke to Arab News about acting opposite legendary star Tom Cruise in the sequel to his hit 1986 film.
"What an audience has been feeling for two hours, he can sum up in one look, and that is something that Tom really is a master of. He's just been doing it at such a high level for such a long time and so I would just find myself sitting back and watching him," he said.
Surprisingly, "Top Gun: Maverick" has already become Cruise's highest-grossing film ever at the domestic box office, overtaking the record previously held by 2005's "War of the Worlds" ($243 million), Reuters reported.
In its second weekend of release, Cruise's all-American action film collected a sensational $86 million from 4,751 North American theaters. Those returns rank among the top 10 highest-grossing second weekends in domestic box office history.
Pandemic times or not, the Paramount and Skydance release is eclipsing significant box office milestones at record speed. After only 10 days on the big screen, "Top Gun: Maverick" generated $291 million in North America and $548.6 million globally.
"It has never been more appropriate to say 'the sky's the limit' for 'Top Gun: Maverick,'" Paramount's president of domestic distribution Chris Aronson wrote in a note to press.